About Us
We at SSS ECO BAGS initiated our journey with dreams and aspirations of achieving sky high success in the Indian marketplace. In the past decade, our innovative, smart and futuristic techniques for work have helped us in becoming the most profound & promising choice for customers. As a manufacturer, we have been consistently developing & supplying eco-friendly bags, unique collection of apparels and more items that have high demands in varied areas. Our keen interest has always remained to provide genuine quality of products to our customers with upmost fluency and timeliness in the process. The line offered by us contains Mens Fancy Face Masks, Canvas Grocery Bags, Men T Shirts, Hand Gloves, Loop Handle Jute Bags, Kids Dhotis and more products.
For us, customers fulfilment and retention are the primary focus areas where we consciously invest enormous time, money and energy. We handle all our processes in a fully customer integrated manner and, make sure that our customers receive the most satisfying products, deals and services in the entire marketplace. Moreover, we take well-measured actions for achieving peak satisfaction of our prestigious customers with the completion of each deal.
Why Us?
Today, a notable number customers happily avail products from us regularly. And, recommend our company to many new customers because of our:
Quality driven approaches for production
Surety of providing most advantageous offers in domain
Capacity of meeting even urgent orders on time
Professional ways of handling all the jobs
Our Infrastructure
At Tirupur, we have sound infra facilities for the production of Kids Dhotis, Loop Handle Jute Bags, Hand Gloves, Men T Shirts, Canvas Grocery Bags, Mens Fancy Masks, and other products. Our facilities give us advantage of meeting even the bulk demands of customers without any compromise to the promised quality.
We accept inquiries only from Andhra Pradesh, Karnataka, Kerala, Maharashtra, Puducherry, Tamil Nadu & Telangana.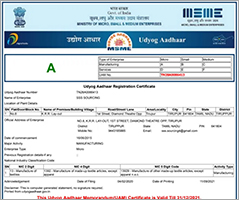 Read More